Meals for Millennials: Redesigning the On-The-Go Meal Experience
Fall 2016.
how do you design an on-the-go meal experience for a certain demographic?
This project focused on redesigning the on-the-go meal experience for millennials. This was an interesting challenge, as the term "millennial" applies to such a massive birth range; those born in 1977 up until 2000 and encompasses a massive range of peoples with different lifestyles.
Part I: Research
My first step in this project was to determine what user I wanted to design for within the large range of millennials. I interviewed several students at Carnegie Mellon University to better understand how people born between 1994-1997 view eating on-the-go. I asked them specifically about desires regarding meal containers, as well as their meal preparation processes to better understand their needs from meal containers. I learned that everyone has different eating styles, whether they snack throughout the day or make one meal to take with them.
After, I pulled Andrew aside to conduct a task analysis; an in vivo observation of how he goes about making his meals. During the task analysis, I saw that Andrew wrapped his container twice with rubber bands and a plastic bag since he did not trust it's ability to not leak. Additionally, he said that his meal container didn't feel exciting or engaging. He said he would "prefer a container that matched the amount of work he put into making the food." I used this as an inspiration for my final design. Since there isn't really a "lunchbox" for young professionals, I chose to design for this niche of millennials to encourage them to eat well and prepare their food ahead of time, yet also provide a compelling interaction.
Part II: Brand Style Guide
Group: Jesse Klein, Kate Martin, Jeong Min Seo, and Michiel Laane
Along with my group members Jesse, Kate, Jeong Min, and Michiel, we collaborated to create a brand style guide to inform the styling for the final product. We chose KitchenAid for its strong visual language and iconic status as a long-lasting and versatile kitchen brand. We though that KitchenAid's vivid colors, rounded edges, and compelling features would be a great addition to a lunchbox marketed towards users who are new to meal preparation and eating at work.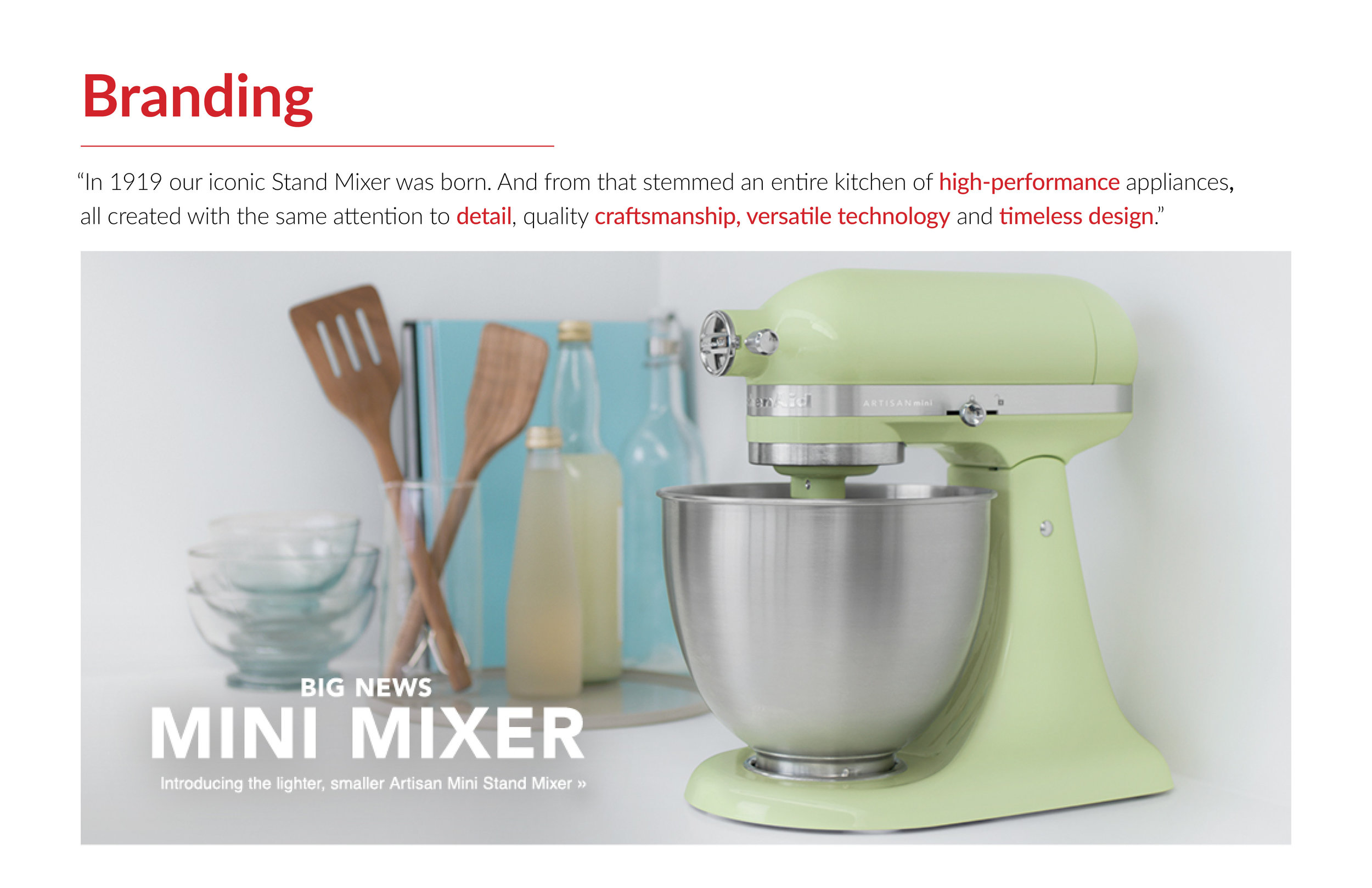 Part III: Ideation
With the brand language of KitchenAid as a guide for styling the model, I set out to make an intriguing interaction between a young professional and their meal container. I wanted a form and interaction that was understated since it would be in a professional environment, yet still invites discovery. I drew some rough sketches and took notes on the types of interactions I thought were compelling. I found I liked the ability for the form to be understated, yet the opening of the container to put on a "display" of the food inside.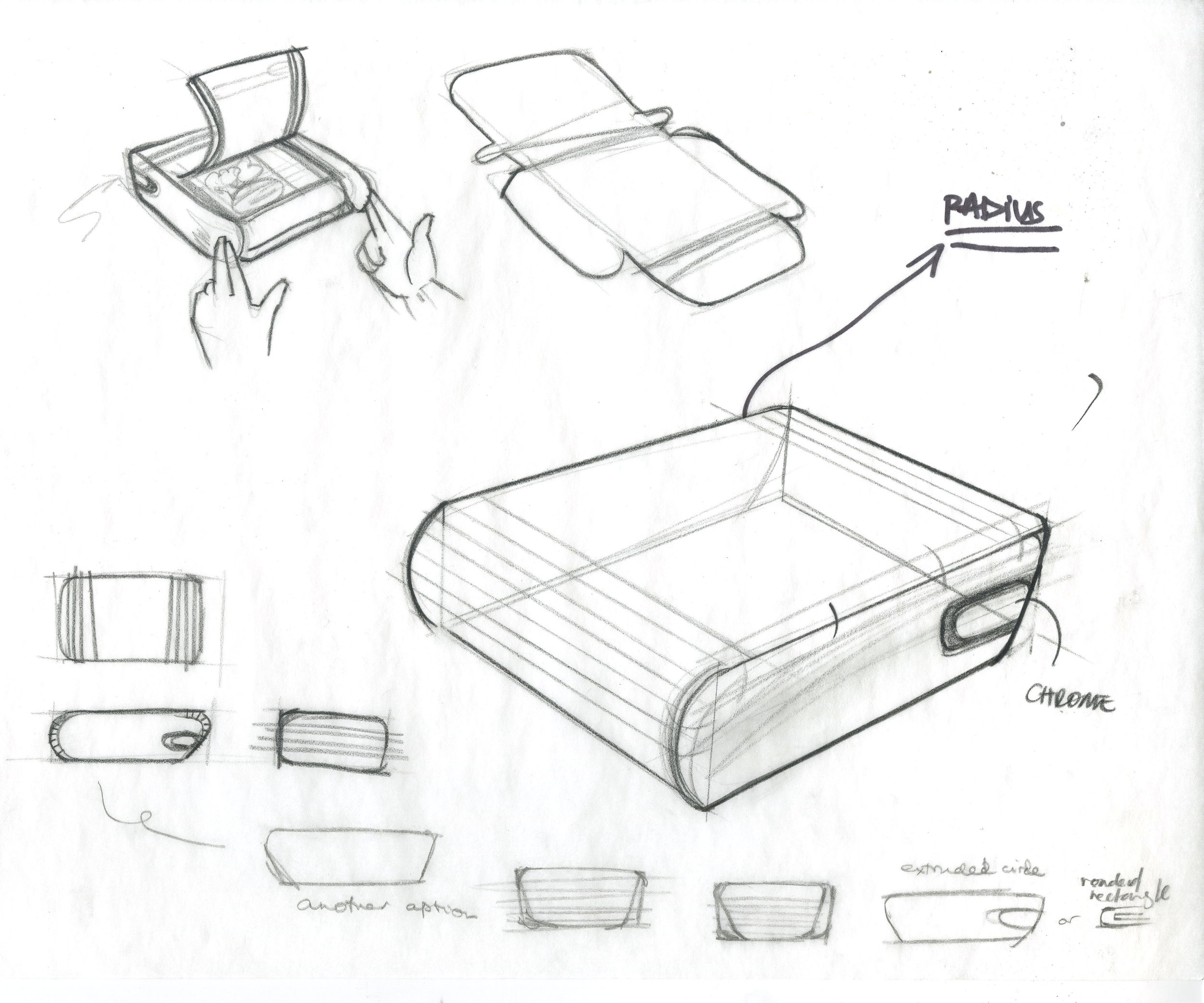 Part IV: Interaction Model
I loved the idea of the user controlling different "modes" of eating in the workplace: at their desk for a working lunch, or sitting with coworkers at a communal table. The lid of the meal container could be unlatched at two different folding points to afford this interaction. The semi-open lid would be for private eating, while the flattened version would act as a placemat. The folding lid would also gently unfold to display the meal inside, held within individual containers. The container would be made from hard plastic for durability and be made leakproof through the use of rubber gaskets on all the edges. The scale of the model also allowed the user to pack a variety of snacks or a large meal, allowing for versatility in eating style as determined by my research.
Part V: Branding
In order to create an compelling form with regards to the visual and interactional elements, I continued to draw upon KitchenAid's styling to add visually intriguing elements to my meal container. The final form incorporated banding, chrome accents, and the rounded edges seen in KitchenAid's overall styling. I did a marker rendering to understand the form and color of the meal container in analog form, then transitioned to SolidWorks and Keyshot for the final model.
Reflection
This project was my first foray into "traditional" product and user experience design. I have always made informed decisions with respect to what I am designing, but it was always in an indirect way through images and third-person research. The opportunity to interact with people and conduct interviews and first-person research was incredibly insightful, yet challenging in the best way. Evaluating and analyzing this feedback was difficult, but rewarding: I could determine users' pain points and tacit needs to come up with a designed solution. Overall, a very rewarding project with respect to user research and branding.