Workmate: Redesigning the Lawn Care Experience
Fall 2016. | Group Members: Lois Kim, Michiel Laane
How do you make lawn care more exciting?
Lawn care is an activity that sparks many mixed feelings - dread, joy, hatred, and love. This project encouraged us to redesign the "lawn care experience" in order to educate users regarding their lawn's needs. Working in a group, we designed a system of tools to not only make lawn care more exciting and engaging, but also tacitly educated the user about sustainable habits with respect to watering and fertilizing.
Part I: Interviews
As a group, our first step was to identify a who we were redesigning the lawn care experience for. We interviewed our parents and family friends and gauged their reactions to lawn care and how they felt about it. We decided to design for a homeowner in the 40-55 age range, as the majority of people we interviewed fell within this demographic.
Our interviewees said that:
lawn care was tedious due to the number of steps
they desired engagement in the process
they felt a sense of accomplishment when taking care of their lawn
they only bought what was recommended to them at a big box store, not what the lawn actually needed
Part II: Ideation
Using our insights from our interviews and task analysis, we sought to design a system of products that worked together seamlessly and reduced overall physical effort, yet still required the user to be engaged in the process of maintaining their lawn to feel a sense of accomplishment. We wanted the user to tacitly be educated by the products we would design, making lawn maintenance a delight instead of a chore.
Since our group was focused on creating a seamless product experience, we sought to
eliminate pain points
educate the user on why lawn care is important
integrate products to create a less disjointed system.
create a system of products that helped fertilize, spread fertilizer, and water lawn.
Since we were redesigning a lot of products at once, each group member chose a product experience to focus on. Michiel chose fertilizer storage, Lois chose the watering system, and I chose to redesign the spreader experience.
Development of System
We came up with the idea of a probe that would measure lawn metrics such as pH, moisture content, and density to determine amount of fertilizer, limestone (for pH regulation), and water needed. This probe would communicate to the fertilizer storage unit to dispense the appropriate amount of fertilizing agents and could act as a regulator for the rate the fertilizer was spread in the spreader.
We also wanted to integrate this probe idea with the watering system, using the moisture data to determine how long to run the sprinkler for. We also wanted the probe to display these metrics in a highly visual and readable way to passively educate the user on how their lawn was doing to better engage them in the lawn care experience.
Part III: Branding
For the branding of our product line, we chose to incorporate the styling of Stihl, a lawn care company known for its long-lasting and high quality products that are an outdoorsman's dream. This brand is also highly desirable amongst amateurs and more experienced persons alike. Stihl has a very distinct brand language and their brand identity fit well with our group's desire to make a lawn care system that brings interest and enjoyment to an otherwise uninteresting task.
Part IV: Applying Branding to Concept
The penultimate stage of this project was applying the branding of Stihl to our product line. Stihl's curved chamfers and high-contrast coloring were difficult to incorporate at first, mostly due to the fact that the spreader was so rectilinear. The probe was easier to stylize, mostly due to its small scale. I then modeled my sketches in SolidWorks and rendered in Keyshot.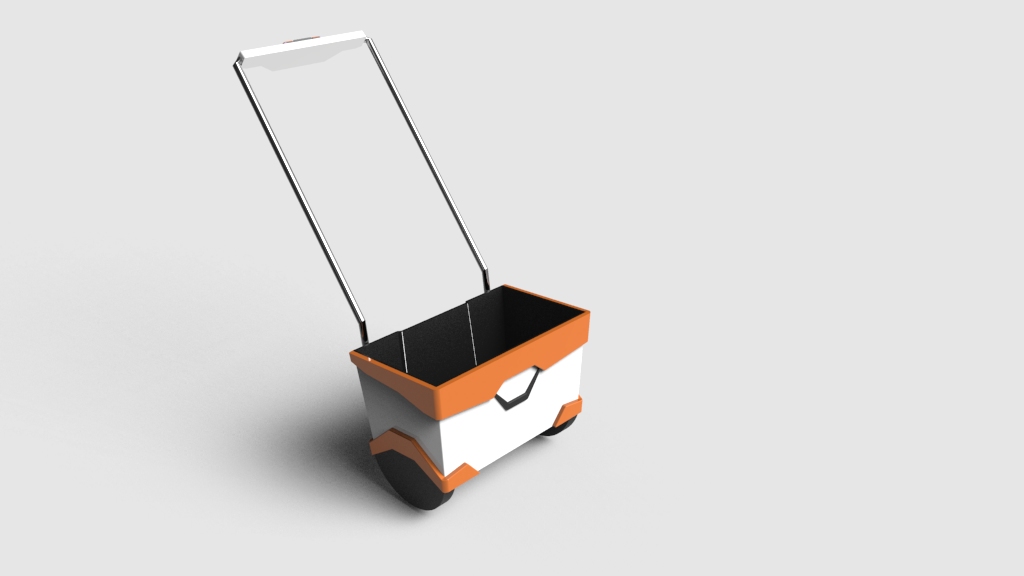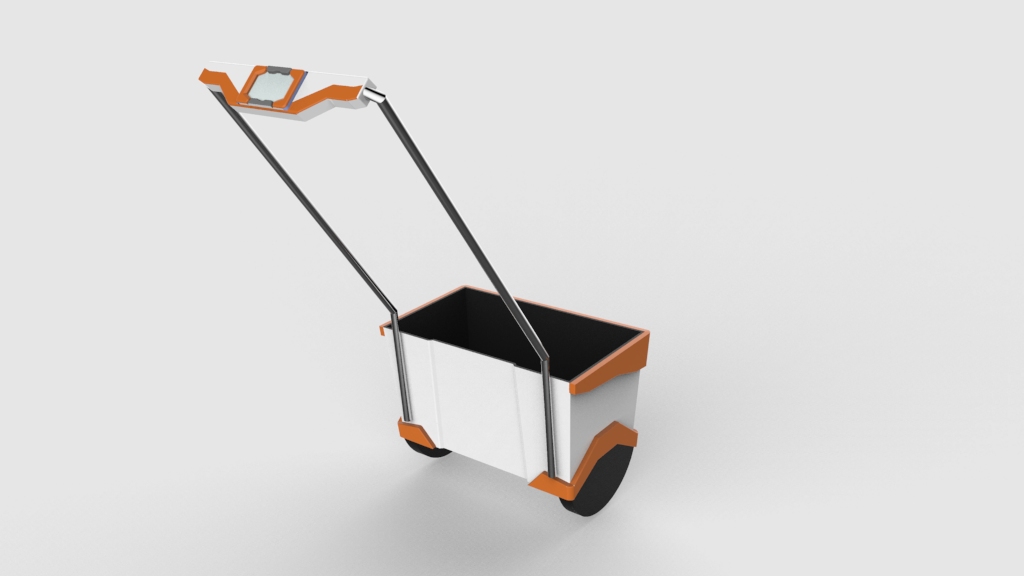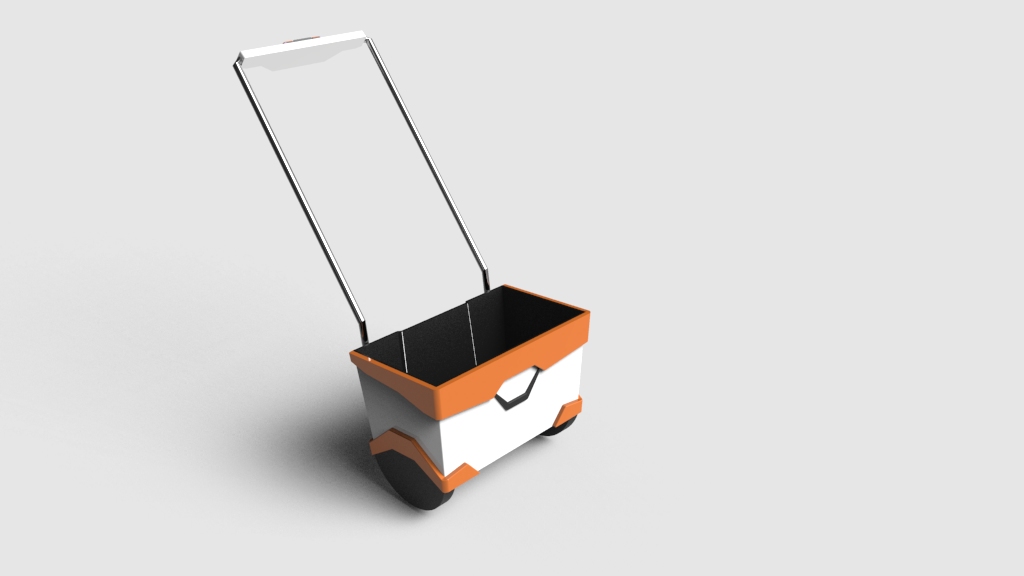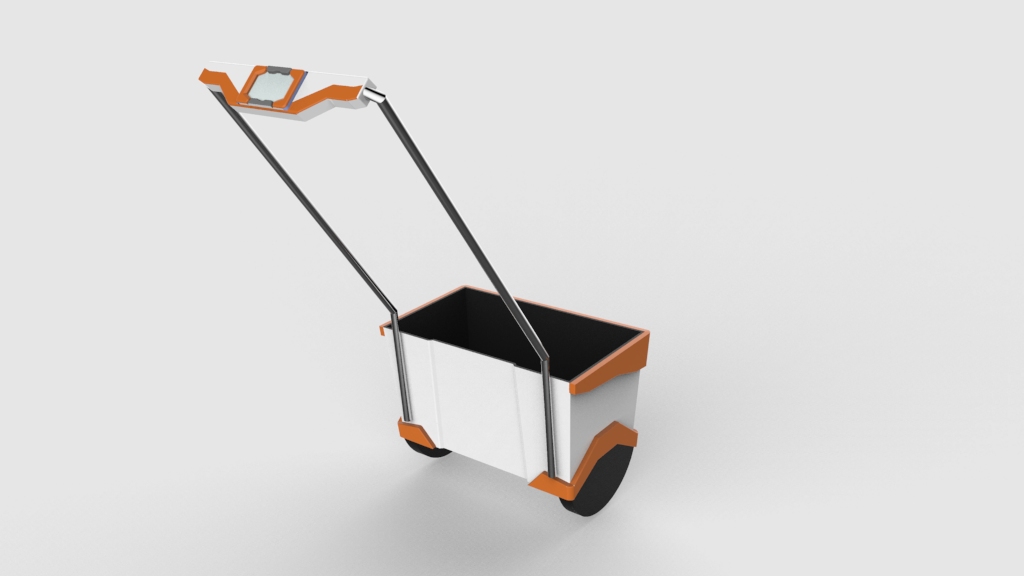 I modeled a low-fidelity model of my spreader out of foam core to better understand how the model would be scaled to a person. The dimensions are based on a current spreader model due to it's comfortable holding position. Michiel and I collaborated on the height of the spreader to make sure it would fit perfectly underneath his fertilizer dispenser.
Part V: Presentation
The final step of this project was putting our presentation together as a group. We really wanted to make sure we had a cohesive and strong storyline to convey how our product system worked together and to showcase all of our hard work during this 6-week project. We took photographs of the contexts in which to photoshop our SolidWorks models to bring our products to life in their proper environment.
Afterwards, we came together and storyboarded our images, noting where we needed extra information or drawings to fill in any gaps in our presentation. We designed our presentation to be a storyline, telling the story of a day in the life of taking care of the lawn. This way, our presentation could showcase the entire user experience and not just show a product-by-product rundown.
Reflection
Ultimately, this project was both incredibly challenging, yet equally rewarding. It was the most long-term research project that my group members and I had done to date, involving multiple types and methods of research to better gain insight into user behavior and desire. It was refreshing to work in a long-term project with a group, however - we each knew our strengths and weaknesses and kept open communication about issues we had to better stay on top of our goals as a group. We especially made sure as to collaborate on every step of the project, since we knew that a lack of communication would lead to a disjointed product system and presentation. We kept the group dynamic open and fun, working hard to make our ideas come to life, sharing responsibilities and letting each other know when we were struggling with something. I think we were quite successful in that and I'm proud to have been a member of this group.